BrowserFairy 2 for Mac - a fresh start
BrowserFairy is an app for Mac that helps people to use different web browsers side by side and better organise their daily work. It has been around for quite some time now and we are grateful for the many users around the globe relying on it to manage their browser driven workflows.
Today we are happy to announce the release of the all new BrowserFairy 2 for Mac.
Where we're comming from
Before we get into all the bells and whistles of the version, let's do a little history first.
Early in 2011 Joachim (todays BrowserFairy lead developer and co-founder of venqoo) was annoyed of the fact that Safari - his favourite browser at the time and to this day - did not support Flash content. Still he didn't what to install a Flash plugin and spoil the system with this legacy technology, especially since Chrome had native support for Flash.
Sticking with Safari and using Chrome just for Flash related content looked like the way to go. But there was one major drawback: Switching browsers back and forth was just too tedious. So he thought: What if one could automatically open Flash related content in Chrome and keep everything else in Safari?
This idea was the initial spark for the development of BrowserFairy.
The first version of BrowserFairy has been released to the Apple App Store in December 2011 and through the years survived the various incarnations of Mac OS, has been constantly sustained and improved with litte features here and there. Still it was mostly driven as a side project within venqoo since the revenue to this day is relatively small and the effort for development and support is hardly covered.
Here's how it looked like someday in 2014: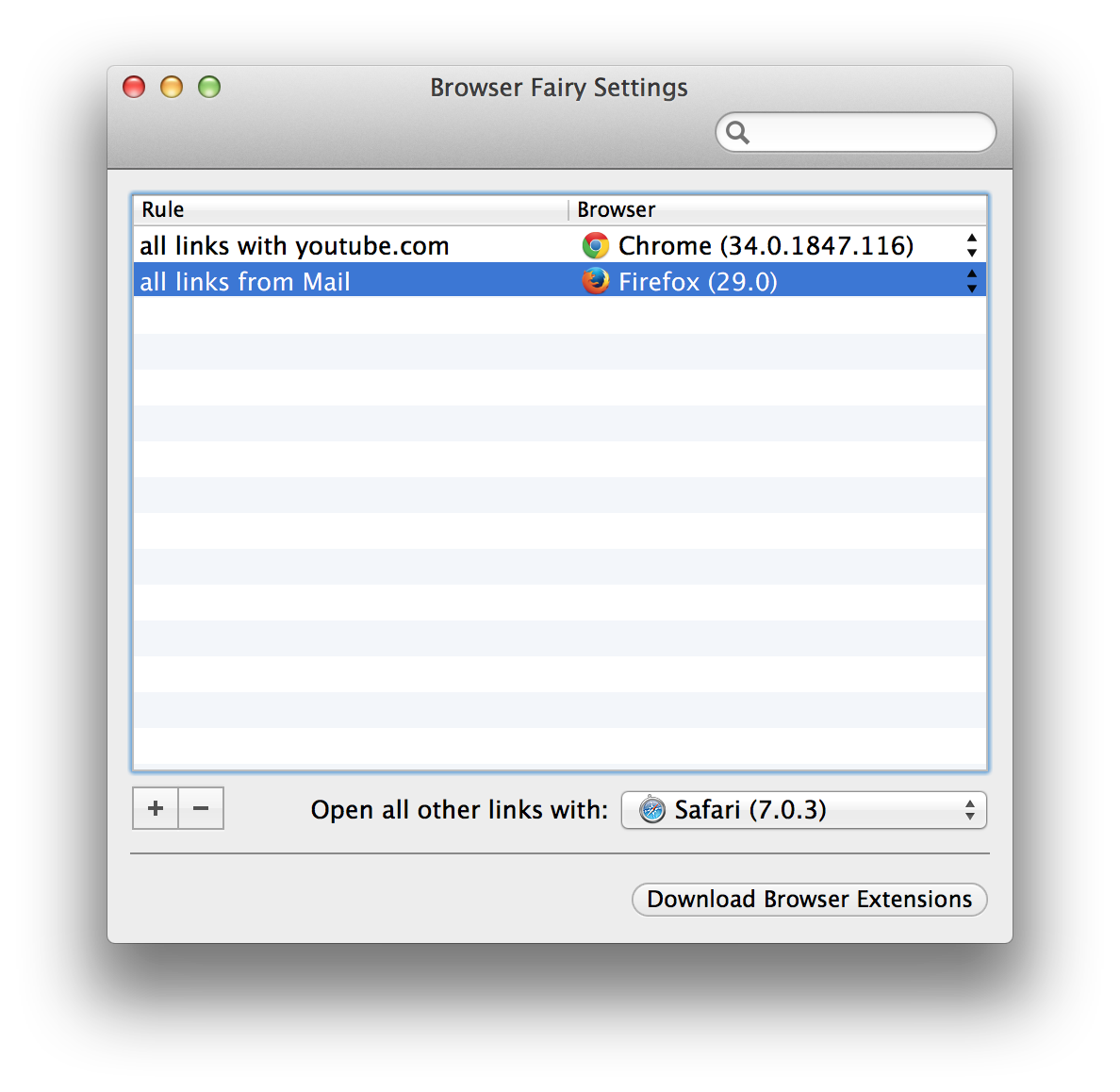 Early in 2020 we revisited BrowserFairy and its potential to grow into place that allows us to put more time and effort into its development. Turns out we quickly came up with plenty of ideas each of which could make BrowserFairy even more usable and feature rich to attract an audience that - until today - is not aware of this little helper but could gain a lot from it. So we decided to jump right in and set out for a fresh start.
What's new
BrowserFairy 2 hit the App Store. This the first big milestone of our continued undertaking and we feel like celebrating now! So here's what's new with BrowserFairy 2:
Complete rewrite in Swift
Complete rewrite of all browser extensions
New User Interface
New business model
Bye bye Objective-C, hello Swift!
BrowserFairy has its roots in the year 2011. At the time Objective-C was the language of choice for Mac development. In fact Objective-C was the only viable option. Late in 2014 with the introduction of Swift a new kid came on the block. While we were excited about it right from the start and adopted Swift as our first level language for almost any new iOS and Mac project ever since we always shyed away from the transition for BrowserFairy.
For BrowserFairy 2 it was the time to change that. We didn't just do refactorings or partial replacements but we re-wrote the whole app from scratch using Swift. On this way we had to overcome quite some challanges but in the end it turned out great and we're more than happy to have a modern code base now that'll pave the way for future development.
Browser extensions
The browser extensions enable a smooth transition from one browser to another. While BrowserFairy does its magic mainly behind the scences according to the users rules, the extensions provide quick access to the BrowserSelector an therefore close a gap for ad hoc workflows.
For many users this seems to be just as important as the rule based workflows. This is why we revisited all of our browser extensions an decided to make the same move we already did for the app itself: Start fresh - rewrite everything! Today we have new browser extensions available for Safari, Chrome, Firebox, Opera and Edge!
User interface
Users familiar with BrowserFairy will notice that BrowserFairy has left the dock. At this point we think that the Mac menu bar is the best home for BrowserFairy and that's why we made BrowserFairy a first class menu bar citizen. We kept the magic wand icon because we really like it but now you can open the rule editor with a simple left click while a right click presents the typical menu with access to the preferences.
The heart of BrowserFairy is the rule editor and this is where most of the magic happens. Whenever a link is clicked outside of a browser it's these rules that determine which browser to open the link with. Rules can be as simple or as complex as you like them to be. It's extremely easy to get started with your first rule and at the same time rules are so powerful that they can tackle even the most advanced workflows. With the new version we aimed for a clearly structured, self-explanatory user interface that's easy to overview and navigate. The new rule editor features a numbered list of rules on the left side - of course there's drag'n drop support for re-ordering the rules and a search option - and on the larger area on the right you can directly edit the rule with all of its properties.
We often found ourselfs in a situation where some kind of link transfer to a mobile device would have been really handy to have. And it's embarissing to admit that email filled that gap from time to time. So we tried to find the most straight forward way to support this case. What we came up with is a QR-Code withing BrowserFairy's BrowserSelector window. When looking back it was just too obvious. We hope you'll find this feature as useful as we do! It's often the little things that make a big difference.

Business model
Starting with BrowserFairy 2 there is a free version that allows to unlock additional features via a paid subscription. At this point the subscription includes an unlimited number of rules and the export/import option for rules. The free version is limited to 3 rules. We think that many people can go a long way with it and enjoy all the goodness BrowserFairy brings at no cost at all. At the same time we're wellcoming everyone to support BrowserFairy with a monthly or a yearly subscription. With new features to come we think that jumping on board will be a no brainer for many of our users.
Up next
We are commited to continuously improve BrowserFairy. We want to find ways to do things better and add new features that bring more value to the app. Right now we are working on ways to make the BrowserSelector even easier to use. Maybe that will be part of our next update. We'll keep you posted!
Thanks so much for reading though this and all of your support!
Your BrowserFairy Team